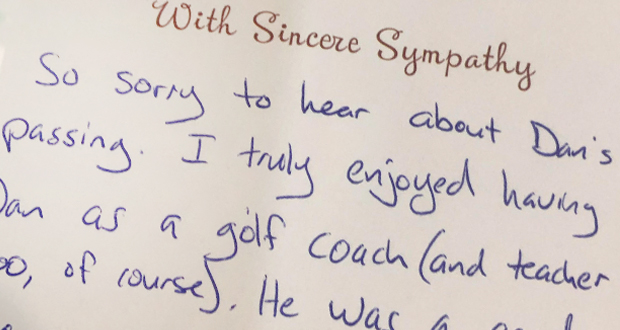 We were so blessed to hear from SO MANY people upon Dan's passing. The kind words shared by past and present students, players, co-workers, family and friends were deeply appreciated and provided no doubt, Dan left an extraordinary legacy behind.
Below is a small sample of the condolences received after losing Dan.
Cheryl, I'm sorry to hear about your husband's passing. I would see Danial at TM Fitness after his diagnosis. His perseverance and strength was an inspiration for me, as I'm sure it was for many.
So sorry to hear about Dan's passing. I truly enjoying having Dan as a golf coach (and teacher too, of course). He was a good man and will be missed by many.
It was a blessing having such a great counselor since the 7th grade. Praying for the Wold family, as he will truly be missed.
We extend you our deepest sympathies in this time of sorrow. Please know we will continue to pray for you. Dan was a great man who impacted our children in wonderful ways. He will be missed!
Dan was always so supportive, helpful, warm, and caring as he served as counselor and coach for my children as they attended Roncalli. We will miss him and are so sorry for your loss.
Our deepest sympathy for the loss of one so loved. Dan was a super teacher and friend.
I am very sorry for your loss. You are in my family's thoughts and prayers. I just wanted to let you know how impactful Mr. Wold was on my life, the inspiration for all and it was always nice seeing him wave at me as I pass him in the hall with a smile. He was a great man whose legacy will live on.
We are so sorry for your loss – we got to know Dan through Roncalli and he was our son's football coach in junior high. He was always so kind and supportive! God Bless – we will be praying for Dan and your family.
We will miss all the great things Mr. Wold did for Roncalli and for our kids but we will never forget!
I am so sorry for your loss. Mr. Wold was a great guy and taught me a lot in life. I will miss him dearly.
Thinking of you and your family at this difficult time. Mr. Wold was a fantastic teacher and he will be missed in the halls of Roncalli.
So sorry to hear of Dan. He was a great guy! I have memories of him being my teacher and more recent being a counselor. He will never be forgotten. My thoughts and prayers are with you and your children during this time of loss.
Dan was a great asset to Ellendale school and many others. Much sympathy to all your family.
So sorry for your loss. Keeping your family in my thoughts and prayers. I was a student of Dan's in Ellendale in his early years of teaching. Dan's kindness and patience to his students and positive demeanor are my memories of Mr. Wold. He will be greatly missed, leaving us with many great memories.